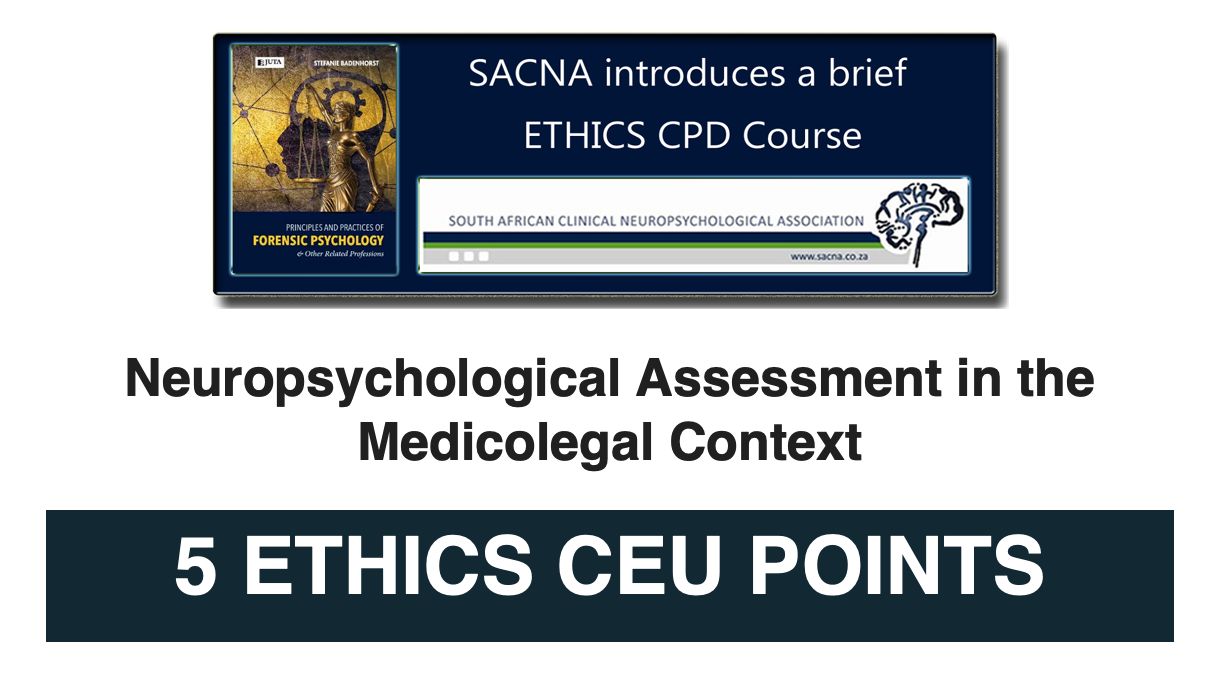 This MCQ is based on Chapter 11 (authored by Dr Frances Hemp and Tania Pomario) in Stefanie Badenhorst: Principles and Practices of Forensic Psychology & Other Related Professions Juta 2020.

Course Fees: R450 for SACNA members & R650 for SACNA non-members.
The aim of setting an MCQ course on this chapter is to provide information on the rights of patients and the responsibilities of professionals when carrying out a neuropsychological assessment in the medicolegal context. The chapter covers obtaining authorisation (template provided), payment arrangements and fees, the ethical principles in obtaining informed consent, dual relationships, breaching confidentiality, the use of interpreters/psychometrists, the competency of the neuropsychologist, over-testing and protecting the integrity of neuropsychological tests.
For more information, click here.
News Feed
Conference
We have a double announcement: An Online SACNA Workshop on a subject of neuropsychological interest will take place later in 2021 and a full in-person 12th SACNA conference will take place from 5-8 October 2022 at the Waterfront Breakwater Lodge in Cape Town. Watch this space for more details.
The online seminar on Functional Neurological Disorders and the neuropsychological effects of COVID will be held from 08h30-13h00 on Thursday 7 and Friday 8 October 2021. Please add this to your calendar. More details on the programme will follow shortly.
__________________________________________________________
Online Webinars
As most of you have noticed in 2020 our regional meetings went online – while we all miss personal opportunities to network we will continue this trend to maintain one of SACNA's main aims of ongoing professional development. We have arranged some very interesting speakers and topics for this year and look forward to seeing you all attending our Zoom meetings and webinars.
28 July Prof J Lotz, Medical Specialist - Hypoxic-ischaemic injury
25 Aug Dr G Lipinska, Neuropsychologist - What is impairment? How to understand impairment in high functioning individuals
24 Nov Dr L Vlok, Neurologist - Sightless Vision
1 CPD point per meeting. Free to all HPCSA registered healthcare providers. R100 per webinar for non-members who would like to receive a CPD certificate.
You can read more on each topic on the COVID-19 moves regional SACNA meetings to national webinars article on Brainwaves.
Meeting are open to HPCSA registered healthcare providers only.
__________________________________________________________
HPCSA Neuropsychology Register
We are very pleased to be able to report to you that a milestone for South African Neuropsychology has been attained during early-July, 2020:
The Register for the category of Neuropsychology has finally been opened, and has begun to be populated with the first cohort of practitioners, via the "grandpersoning" process.
Read more on Brainwaves
__________________________________________________________
SACNA Exams
To register for the SACNA credentialling examination click here.
To view the reading list, please go the Credentialing page.